Talk for just a minute with Kelly Davis and Samba Jarju and you'll learn something new. About pain relief, about their relationship, or about an event happening somewhere in Southern Arizona in the burgeoning cannabis industry.
Or, maybe they'll tell you about their latest lines of products for their pair of home-grown, Tucson-based cannabis brands: Tucson House of Cannabis (or THC for short, clever) and Kelly's Natural Aromatherapy.
"THC and Kelly's Aromatherapy are about bringing the community together, bringing like minds together to support each other, to support community involvement, to support bettering the community," Davis explained.
Davis founded Kelly's Natural Aromatherapy in 2014, with a focus on CBD- and Delta-8-based topicals, lotions, tinctures and other products.
Tucson House of Cannabis is Jarju's baby and was started in 2018. Like the name suggests, his brand focuses on THC-rich and full-spectrum marijuana products, as well as on a line of marijuana flower.
The difference between the brands is key, and stark.
Since THC (Tetrahydrocannabinol, the compound, not the brand) is considered psychoactive and prohibited by federal law, THC (the brand) has been unable to get as much of a foothold in the mainstream, both state-wide and nationally, as KNA has.
"Kelly's Natural Aromatherapy, CBD, has been accepted nationwide. There is no struggle with that, but doing the broad spectrum with THC and cannabis we have noticed that there is a licensing bottleneck in this state," Jarju said.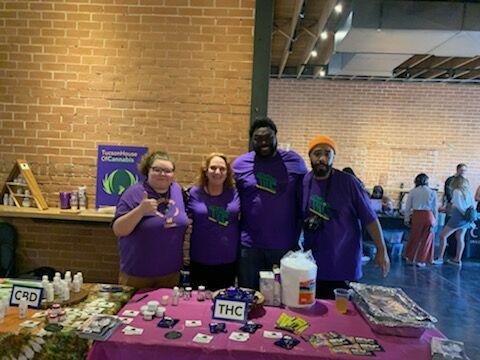 Davis confirmed her products can be shipped around the state, nationally and even internationally.
For Jarju and THC, however, the bottleneck of licenses means his more regulated products require much more scrutiny, which in turn has made it harder to get the products to a point of sale.
And along with that comes the challenge of getting products produced outside of the dispensary ecosystem onto dispensary shelves. Currently, neither brand is available at Arizona dispensaries, something Jarju and Davis said they are in negotiations to change. 
Still, since the beginning, both brands (and their founders) have been about community.
In particular, the veteran and medical patient community, two groups both Jarju and Davis are a part of and they say are underserved by the current dispensary model. That's why Jarju and Davis said they gear their brands towards those underserved communities.
"We noticed that medicinally things were changing and so much was just becoming commercialized," Jarju said. "We really noticed there was a disconnect with community and that's something I've experienced as a veteran and that's something that Davis has experienced as a PTSD sufferer, as well."
One of those veterans being helped is Jen Baxter of Gilbert, Arizona.
Baxter, the ambassador and team coordinator for the veteran-focused non-profit Balanced Veterans Network, met Jarju and Davis at an industry event geared towards veterans and is a user of both THC and KNA products.
"They had a couple of different topical lotions that were pretty helpful with muscle strains and pain in general," she said. "I remember a Delta-8 one that they had. 'Green Magic Cream,' or something. And then in addition to that, their CBD gummies were really helpful and some of the THC edibles as well."
Jarju, a Navy veteran, and Davis said they've attended multiple Veterans of Foreign War's events and tabled with their products, each time receiving positive feedback.
"We've gained so many supporters that have the backing to help us," Davis said. "And so thank God. People have started coming forward and sponsoring and helping us be able to stay in the game without breaking our bank account."
That's a sentiment echoed by Baxter, who said it "means the world" to see a veteran owned and operated brand within the cannabis industry.
"It's really cool to see. I know there are a couple of veteran owned labs in the valley as well. It's just a really cool thing to see veterans being successful in that space"
Even though both THC and KNA continue to face adversity and the challenges of operating outside of the dispensary system, Jarju and Davis remain steadfastly optimistic in their outlooks.
"There's no way at this point that we could stop doing what we're doing," Davis said, with a laugh. "There's way too many people that need it."
Want to learn more about Tucson House of Cannabis and Kelly's Natural Aromatherapy?
Websites: tucsonhouseofcannabis.com, kellysaromatherapy.com
Instagram: Tucsonhouseofcannabis, kellysnaturalaromatherapy
Product list: click here